Are you planning a birthday celebration for your loved ones or yourself in Jerusalem? Can't decide where you should go or how to do it? Here are the best birthday venues, restaurants, bars, and other options that the city has to offer. Whether you're interested in a private event with your extended family or simply planning a fun night out with your friends, here is your insider's guide to the best places, tips, recommendations, and more. Happy Birthday!
Happy Fish
Photos courtesy of Mamilla Hotel In a nutshell: an upscale fish restaurant with a spectacular terrace at the Mamilla boulevard, perfectly suited for groups and events. Happy Fish is the upscale fish restaurant of the Mamilla Hotel, where you can enjoy a unique culinary experience and a fine design resembling a secret, mysterious orchard. This place is perfect for any time of the day and for any event – up to 400 guests. The interior was planned in a way that makes it look spectacular at any hour, both under the bright blue sky or in the starry night. In Happy Fish you'll be served fresh Mediterranean fish, cooked as you request it, with freshly plucked herbs from the Mamilla Hotel garden, with bread that has been baked in the restaurant's bakery, various salads, and more. This is also the best location in town, of course. The tables are overlooking the fancy Mamilla boulevard, and a renowned chef crafts every meal into perfection. 
Address: Mamilla st. 14, Jerusalem 
 Fish Restaurants in Jerusalem >> 
Top Chef Restaurants in Jerusalem >>
More recommended places for birthdays >>
Nocturno
Photo: Courtesy of Nocturno Restaurant In a nutshell: affordable events all day long, with live shows and an artistic atmosphere.   Nocturno café is not just a place where you can chitchat about philosophy and literature, but it is also a perfect spot to celebrate your birthday. The Nocturno can accommodate up to 120 guests with different seating arrangements and options. The place has two floors and two lounges (for 15 and 10 guests). Another great thing about Nocturno is its ability to provide your event with a fresh artistic program, as it is well-connected with the best artists in Israel. So booking a live performance or a stand-up show for your birthday event will never be easier. Event menus at the Nocturno are personalized and customized, and you can count on the ingredients (and even the spices) to always be fresh. Bonus: enjoy the option of ordering a personalized drink from the bartender.
Address: 7 Betzalel Street, Jerusalem
Kixx: a private events complex
Kixx: A complex for private events in Jerusalem (Photo: Michael Arenburg) Kixx is an innovative complex for medium-sized private events. The complex consists of two spaces, with a dance floor, advanced sound system, disco lights for parties, a spacious karaoke salon to sing with all your friends, and even a huge spa Jacuzzi and of course – there's no party without food! The concept of Kixx is to pair your event with extra-delicious chef meals. You can host any kind of event here: from corporate events to hosting workshops and celebrating birthdays and any family events, including bar or bat mitzvah, bachelor or bachelorette parties, marriage proposals, and more. To create a truly memorable event, you can join forces with the staff of Kixx and include guest singers' performances, chef meals, and a variety of customized options. 
Address: Yad Harutsim Str. 16 
Restaurants for Small & Intimate Events >>
Lechem Basar
A birthday celebration at Lechem Bassar restaurant (Photo courtesy of Lechem Bassar) In a nutshell: Lechem Basar is a modern kosher restaurant, that combines meat with excellent bread of all kinds. The place is graced with an urban atmosphere, joining together the old and the new, situated in the famous First Station Compound in Jerusalem. Its unique interior design creates the perfect setting for joyful and intimate gatherings with friends and family. The place has many sitting arrangements for small groups, by merging tables or occupying part of the bar, as well as intimate and secluded areas. All of these make Lechem Bassar a perfect place for a Birthday celebration. It also has plenty of options, from a small VIP room for 35 diners, or big gatherings of 150 people. You can schedule your party for both noon or evening, with a budget of 150 ILS per guest at noon, and 180 ILS during the evening. 
Address: The First Station, David Remez St. 4, Jerusalem. 
Restaurants in the Old City area >>
Nahman Restaurant
An intimate kosher birthday party at the perfect location at the Music Square. Photo courtesy of Nahman restaurant. In a nutshell: Kosher meals with perfect musical background and delectable atmosphere.
Nahman Restaurant is a kosher restaurant inspired by the magical atmosphere of intimate Italian restaurants with their recipes and aromas imported straight from Europe, but with a classical Mediterranean twist done the Jerusalem way. The restaurant is located in the Music Square complex in the picturesque Nahalat Shiva quarter. Enjoy rich and extra-delicious breakfasts, atmospheric lunches, and dinners with the calming background music of the complex. The unique setting makes it a perfect venue for events at all operating hours. The restaurant offers a wide variety of fresh dishes cooked on the spot by skilled cooks that blend perfectly with the experience and the atmosphere of the place.
Are you looking to organize a birthday party at Nahman restaurant? This is a great location, sprawled over 200 square meters in a finely designed space of 60 dining spots in the main area, including 12 sitting spots at a recluse and intimate section and additional 40 outdoor seats.
Nahman provides you with a personal and professional approach from the restaurant staff, an intimate and romantic atmosphere, and a special menu reserved for birthdays to help you create an unforgettable event for all the guests.
Other ideas for having a good time at the Music Square (Kikar Hamusica) complex >>
Piccolino
A birthday celebration at Piccolino Restaurant (Photo: courtesy of Maya Eisenberg) In a nutshell: for Italian cuisine admirers – the perfect diary restaurant, is located in a unique and ancient stone building in the Nachalat Shiva area. The Piccolino restaurant serves a unique menu, combining the simplicity of Italian cuisine and impeccable quality. The warm atmosphere of the place is excellent for family gatherings, and the pastry adds sweetness to every moment spent here. Piccolino will gladly host you in a private room suitable for up to 35 guests, or the spacious lounge, ideal for up to 130 guests. 
Address: Yoel Moshe Salomon str.12, Jerusalem
Italian restaurants in Jerusalem >>
Baraka:
Events hall

and restaurant near Mamilla
Photo courtesy of Baraka Baraka Hall and Restaurant is located near Mamilla and offers you the option to host vast birthday parties of up to 250 guests in a festive and authentic atmosphere. Baraka's kind staff will make you feel right at home and make sure that your birthday celebration will become an unforgettable experience for all the guests. The charm of the Old City is blossoming over the grand entrance to the bar. Inside you'll find a well-designed and equipped events hall that accommodates up to 250 delighted guests. At the restaurant you'll enjoy a kosher event menu under the supervision of Rabbi Mahfud, consisting of a variety of delicacies from Moroccan-Oriental cuisine that will add flavor and color to any occasion. In addition, you can use sound equipment and a variety of lighting options. Plus, there's plenty of parking near the hall. When to party? Lunch and dinner / Event Type: Small and medium Events | Ages: All ages 
Address: Korash 7, Jerusalem
Some extra ideas for the best Birthday Party!
Jerusalem Karaoke
Photo: Jerusalem Karaoke groups complex in the city center
If you're looking for a place to celebrate a birthday in an intimate and private environment, combining good food and a good time, Jerusalem Karaoke is the answer! Secret Room offers a private karaoke room for groups and families in the best location in the city center.
The karaoke complex offers intimate private rooms with professional sound and lighting systems, four microphones, a large screen, and many surprises. Parking is available on-site!
Only Kosher food can be brought to the complex. Otherwise, you can order food from the caterers of the place (kosher dairy). The complex accommodates up to 25 people at any time. 
When to party? Sunday-Saturday: 9:00-midnight / Event Type: Private Event / Ages: All ages 
Address: Yoel Moshe Salomon 16, Jerusalem 
Boost your Adrenaline Levels with Crazy Mary - Jerusalem's Horror Maze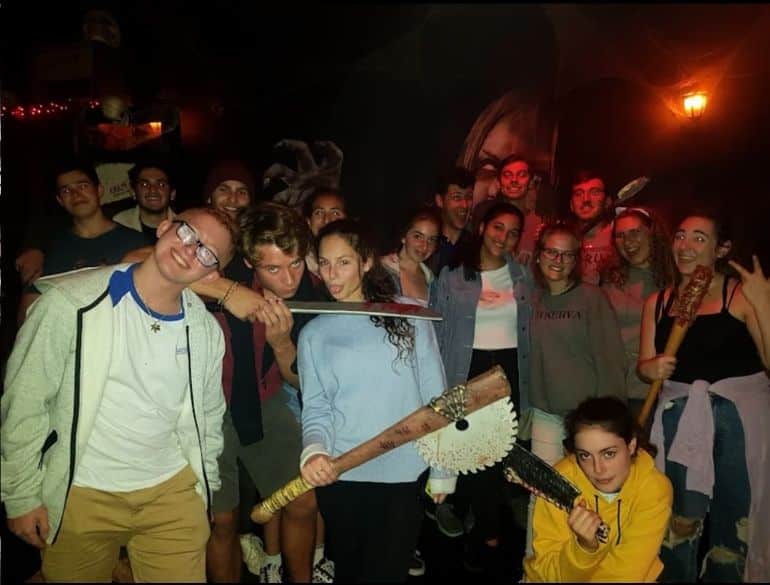 Crazy Mary - The Horror Maze (Photo: Ronen Gelman) How about a challenge for the group of friends? Celebrate an adrenaline-inducing birthday at Crazy Mary - Jerusalem's maze of horrors - and see who's the bravest among you. Crazy Mary is a unique attraction that allows you to take a journey through an elaborate horror maze with immersive sets and even real-trained theater actors that will pop up to startle you while you navigate in the creepy maze. This may sound simple but it's really not: you have to endure and go all the way until you exit the maze. In case you're feeling particularly brave, you can choose from 11 different fear levels and test yourself. Good luck! 
When to party: Noon-Evening  
Event Type: Private Event 
Ages: 18 and up 
Address: 13 Ha-Rekhavim Street, Talpiot, Jerusalem  
Alpha
Team

: Laser Tag

game at the

Cinema City

in

Jerusalem or

your chosen location
Photo: Yakir Salman A real treat for extreme enthusiasts: Alpha Team's Laser Tag game at the Cinema City complex in Jerusalem invites all the guys to enjoy an action-filled game in the complex premises, or celebrate a birthday with a laser tag experience out in the open at a suitable location. Alpha Team's Laser Tag game is perimetrical and combines fun, pure adrenaline, and strategy. The equipment at the attraction is the latest and safest on the market, the staff is courteous and professional, and the arena itself is huge in size and even has a playlist that will motivate you during the game. The activity is divided into several games and according to the scenario and the set goals you must strive for victory in order to overcome the opposing team. Each player is given a headband that is wirelessly linked to the weapon, with a screen embedded to optimize your enjoyment, so you can keep track of everything that's going on. 
When to party: By prior appointment and any time and day 
Event type: Private event 
Ages: All ages
Address: Cinema City, Jerusalem
A real treat at Barak Spa
Photo courtesy of Spa Barak
Would you like to have a day off and celebrate your birthday in a particularly luxurious and intimate environment to spend time with those closest to you?
Barak Spa is the place for you. At the spa complex, you'll find two massage rooms offering all kinds of treatments, including reflexology massage, combined massage, Swedish massage, deep-tissue massage, massage for pregnant women, special massage for athletes, hot stones treatment (for an extra fee), and more.
From the moment you arrive in the Barak Spa complex, you'll enjoy pleasant music and soothing water sounds. During the visit, you may use an outdoor swimming pool, a heated Jacuzzi, and a dry and wet sauna. The celebration in the complex can be combined with breakfast, lunch, or dinner at the restaurant located on the complex premises, serving kosher and delicious food. When to party? Morning-Noon / Event Type: Private Event / Ages: 18 and up 
Address: Country Ramat Rachel RCLUB, Jerusalem
Looking for more restaurants for your event?