Everybody loves a home-cooked meal, but very few people want to go through the laborious process of making one every day or every weekend.
Luckily, there are plenty of family-run restaurants in Jerusalem and even chains that specialize in home-style cooking that includes classic European dishes like goulash, cholent, gefilte fish, chicken soup, and kugel; to Middle Eastern standards like kibbeh, couscous, moussaka, stuffed peppers and more. You can even get your favorite desserts and fresh-baked challah.
Indeed, Jerusalem's definitely got you covered when you aren't feeling up to cooking, whether you need to feed your family, host a big meal, contribute something to a dinner you've been invited to or just want to curl up in your hotel room and enjoy some comfort food in peace and quiet.
Friday is the main day in Jerusalem to get takeout because of the heavy cooking burden Shabbat entails. Some places convert to strictly takeout with a cafeteria and self-service and attract lines out the door. If you aren't in the mood to fight for your food, though, you can usually drop by on other, less-busy days of the week.
Check out our eclectic list of top takeaway joints in the city (all kosher):
European (Ashkenazi) Cuisine
Ashkenazi Jews come from Europe and their cuisine is heavily influenced by the cooking of central and Eastern European countries, such as Germany, Austria, Hungary and Poland. If you aren't particularly fond of spicy food, then this is right up your alley.
Heimishe Essen
The name literally means "homestyle food" in Yiddish -- the language of Central and Eastern European Jewry -- so you know you aren't going to be getting anything much more Ashkenazi and homey than this.
The cafeteria-style eatery is absolutely packed on Fridays with people looking to get their hands on authentic Ashkenazi delights like their famous chicken soup and gefilte fish, sweet and savory kugels (baked noodle casseroles), various types of roast chicken, chopped liver and so much more.
The main flavorings in Ashkenazi food are salt, onions, ever-so-little pepper and animal fats, so if you're looking for healthy food, you're probably in the wrong place. However, if you're in the market for some comfort food, look no further.
Where: 19 Keren Kayemet L'Yisrael Street, Jerusalem
Grill Plus
Meat is the name of the game at this eatery on the border of Katamon and Rechavia. As the name suggests, grilled meats -- mainly chicken and beef -- are the house specialty, but roasted and other meats aren't in short supply either. The flavors cover the gamut of Jewish traditions, and while the emphasis is on the Ashkenazi cooking, you'll find some Middle Eastern flavors mixed in.
Where: 42 Hapalmach Street, Jerusalem
Middle Eastern (Sephardic) Cuisine
Sephardic cuisine is a bit more eclectic than its European counterpart. Sephardic Jewry was spread throughout southern Europe, North Africa and the Middle East, including countries like Morocco, Tunisia, Algeria and Yemen. This where you turn to in Israel if you're looking for spicy food bursting with a variety of flavors.
Ha'Tagine
Photo courtesy of Ha'Tagine
Named for the famous Moroccan dish and pot, Ha'Tagine is one of the best places in the city to get authentic Moroccan food. If you like spicy food, then you have to try the chraime, white fish stewed in a spicy tomato sauce flavored with hot peppers, bell peppers, garlic and eastern spices and topped with cilantro.
Then, of course, you won't want to miss out on the various types of tajine stews with chicken, meat, meatballs, dried fruits and other ingredients, maqluba (rice with chicken), couscous with meat or chicken, meat pastries, mejadra and more.
Where: 15 Yad Harutzim Street, Jerusalem
Marvad Haksamim (The Magic Carpet)
Photo courtesy of Marvad Haksamim
Marvad Haksamim is a Jerusalem home-cooking institution that has been operating for over 50 years, offering a proverbial magic carpet through the flavors of Sephardic Jewry. Some of their signature dishes include Yemenite meat soup, mejadra, Jerusalem mixed grill (chicken liver, hearts, etc.), various grilled meat skewers, hummus and other Middle Eastern salads.
Marvad Haksamim has two branches. The one on King George in downtown Jerusalem is the main branch and has a nice patio where you can enjoy a sit-down meal, if you're so inclined. The German Colony branch is strictly takeaway.
Where: 16 King George Street, Jerusalem
Pasha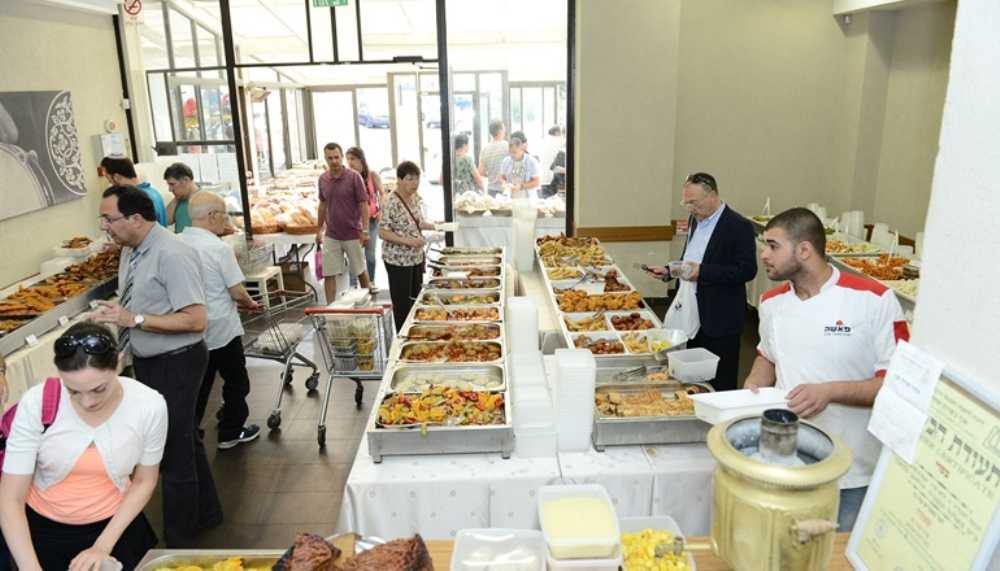 Photo: Courtesy of Pasha
Not to be confused with Pasha's in East Jerusalem, Pasha in Jerusalem's Talpiyot neighborhood is more of an East meets West type of place that specializes in Turkish and Middle Eastern dishes, such as turkish kebabs with amba (a mango-based sauce), various salads and homemade Turkish meatballs. Alongside the regional fare, you can also get American favorites like hamburgers and fries.
Thursday and Friday are the days for home-style takeout when Pasha lays out over 100 types of dishes for you to pick and choose from.
Where: 28 Pierre Koenig Street, Jerusalem