Breakfast is the most important part of the day, as the cliche goes, and Israelis take it particularly seriously when the weekend starts on Friday -- so much so that you'll see people out in restaurants and cafes partaking in breakfast well into the lunching hour.
Naturally, the most common items you'll find are the traditional Israeli breakfast spread -- eggs, assorted cheeses and spreads, bread, juice and coffee -- and the Middle Eastern staple shakshuka -- eggs poached in a spicy tomato, onion and garlic spread. However, more and more, the city's dining establishments are introducing more international items to the breakfast scene, drawing from US, European and even Scandinavian cuisine.
So for all the breakfast-heads out there, we've compiled a list of the city's best breakfast joints serving up eclectic and traditional menus with the warm atmosphere you can only find in Jerusalem.
Nocturno Cafe
Photo: Courtesy of Nocturno Cafe
Looking for a trendy and kosher vegetarian/vegan breakfast? You need to check out Nocturno café.
Using fresh ingredients straight from the nearby Machane Yehuda market, Nocturno is strictly "fresh". On the menu you'll find fresh fish, squeezed juices, homemade pickles and exquisite pasta sauces and salads.
And the coffee? Well, that's the best part. Nocturno's café serves an aromatic blend coffee made from 12 coffee types and this might actually be the best coffee in town.
Where: 7 Bezalel Street, Jerusalem
Find more cafes in Jerusalem>>
Places for small parties & events>>
Villa Brown Tea Garden
Photo: Courtesy of Villa Brown Hotel
Villa Brown Tea Garden is a beautiful open-air veranda located in Villa Brown Hotel serving hotel guests and outside visitors alike.
The Tea Garden is mostly known for its English afternoon tea tradition, but their breakfast/brunch meals are definitely something you want to try.
Brunch is served with a selection of meze, bread, Danish basket, hot drinks, and fresh juice. They have shakshukas, omelettes, Turkish burekas, and other delicious and interesting dishes with surprising twists and culinary innovations. We also recommend checking their cocktail menu.
Where: 54 HaNeviim Street, Jerusalem
Chef Restaurants in Jerusalem>>
Find Breakfast Restaurants in Jerusalem>>
Indulgent Brunch at Tryp Bat Sheva Hotel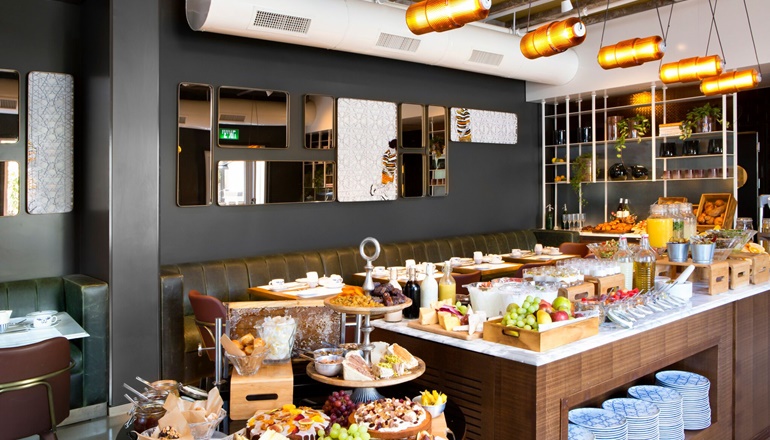 Photo: Courtesy of Tryp Jerusalem Bat Sheva Hotel
Looking to open your weekend with a real treat? Consider a lavish brunch at Tryp Jerusalem Bat Sheva Hotel. The hotel offers non-guests to enjoy an international brunch with a rich buffet and a chef main meal at one of the newest hotels in Jerusalem by the worldwide hotel chain Wyndham.
The buffet menu includes cheese assortments, smokes and pickled fish, hot and cold meals, straight out-of-the-oven breads, fresh cut salads, and refreshing beverages.  The food is made from fresh ingredients from Machane Yehuda Market.
Where: 42 King George Street, Jerusalem
Hotels for Meetings & Events>>
Piccolino
Photo: Courtesy of Piccolino Restaurant
Another great spot for breakfasts and brunches with a charming atmosphere is Piccolino restaurant at the Music Square.
Check Piccolino's Friday brunches, from 10:00am-2:00pm, with fresh-baked breads and focaccias, salads, pizzas, shakshukas, and pastas.
Toss in a delightful location in the beautiful Nahalat Shiva neighborhood and live Klezmer, Carlebach and Andalus Jewish music styles, and you've got yourself the perfect Friday morning!
Where: 12 Yoel Moshe Solomon Street, Jerusalem
Find Dairy Restaurants in Jerusalem>>
Nachman
Photo: Courtesy of Nachman Restaurant
While we're visiting the Music Square, another great breakfast option would be Nachman restaurant. The kitchen is run by chef Rachel Dabach, who combines our beloved Mediterranean cuisine with sassy Italian flavor. The place takes its Italian food seriously and pizzas are baked by skillful pizzalos in a large stone oven, located inside the restaurant.
As for breakfast, you'll find French toast made from Brioche Chalah bread with maple syrup, crème fraiche and seasonal fruits or a muesli with a fruit salad, honey, goat milk yogurt, and granola.
Friday brunches are a special treat, served with an entrée of your choice (shakshuka, eggs benedict, Greek filo pastry, etc.), freshly squeezed juice, coffee/tea, breadbasket, and delicious pastries.
Where: 12 Mavo Bet David Street, Jerusalem
Italian Restaurants in Jerusalem>>
Mehadrin Restaurants in Jerusalem>>
Kadosh
Open since 1967,
Kadosh
is home to some of the best fresh-baked French pastries and cakes in the city. We recommend trying their fried/stuffed brioches, muesli yogurt with fruits and honey, and fritters.
Of course we also recommend rounding out your morning meal with something savory like a French quiche, an omelet or even a fresh and crispy croissant with smoked salmon and hollandaise sauce.
Take your time to enjoy the wonderfully authentic cafe atmosphere or simply so French outdoor seating right on the sidewalk (ideal for people-watching).
Where: 6 Shlomtsiyon HaMalka Street, Jerusalem
More Restaurants in Downtown Jerusalem>>
Grand Cafe
Photo: Courtesy of Grand Cafe
Last but definitely not least is the Grand Cafe in Jerusalem's Bakah neighborhood. A Viennese-inspired café and one of the most comfortable and delectable spots in the city for breakfast. They even have a unique Friday mornings menu that include dishes such as a rural breakfast with fried potatoes and fried eggs, English toast with eggs benedict, homemade pancakes with fresh fruit and maple syrup, shakshukas, and a variety of pizzas with different toppings.
A great place for a relaxing Friday morning for families with children.
Where: 70 Derech Beit LaChem Street, Jerusalem
Restaurants near the Old City>>
Looking For More Breakfast Options?