One major enticing aspect about Jerusalem is something people might not think of offhand: her romantic venues.  Here we list top romantic hotels. So there's no need to wait for an official Tu B'Av or Valentine's Day for celebrating love - in Jerusalem, there's romance to be had year round. Here is a list of Jerusalem's best hotels perfect for a romantic getaway.
Villa B'Moshava
Photo: Villa Ba'Moshava Hotel
The Villa Ba'Moshava (ex - Arcadia B'Moshava) Boutique Hotel in Jerusalem is located in a historical landmark building at the heart of the Greek Colony in Jerusalem, just by the picturesque Emek Refaim Street. The hotel's romantic design has been carefully planned down to the finest details, in order to ensure maximum luxury. The hotel offers its guests 24 captivating superior rooms, as well as other luxuries to ensure that your vacation will be as pleasant as possible.
Where: 13 Yehoshua Bin Nun St., Jerusalem
See More Hotels for Couples in Jerusalem >>
Villa Brown Hotel
Photo: Villa Brown Hotel
Villa Brown Hotel, by the boutique brand of Brown Hotels, is an absolute gem in the center of Jerusalem.  Despite its central location, the hotel offers an exclusive, indulging and romantic ambience. Inspired by the encounter between east and west, the hotel's design is new and modern and creates a perfect romantic getaway experience. Walking around the hotel, you get to also walk around the different periods that this ancient villa has been through: the Ottoman Empire, the British Mandate, and New Jerusalem.
Villa Brown Hotel has 24 fully-equipped guestrooms and suites. There is also a bistro-café located at the hotel's garden where you can taste classic Jerusalemite dishes with a new twist or enjoy a long tradition of indulgent breakfasts and brunches. In addition, every day at 5:00 pm you can enjoy a traditional English afternoon tea with the sunset as your background. If you're looking for something else, you can always check out the restaurants in the city center of Jerusalem, just outside the gates of the hotel. If you're looking to relax with your partner, the hotel has plenty of options to offer: a beautiful rooftop, a terrace, a spa and even a couples spa room with a Jacuzzi. When the night falls, we highly recommend heading to the hotel's "Cave Bar" – the villa's original well, which was transformed into a romantic and intimate night bar.
Where: 54 HaNevi'im St., Jerusalem Check All Boutique Hotels in Jerusalem >>
Harmony Hotel of Atlas chain: Boutique Experience by the Old City
Photo by: Sarit Gofan 
The Harmony Hotel of Atlas chain offers you a boutique experience that emphasizes the harmony and the unique vibe of Jerusalem. The Harmony Hotel is located within a short distance from Jaffa Gate and aimed to express the harmony between Old Jerusalem to the new, modern one. The hotel is designed with warm hues that provide the guests with an elegant and modern atmosphere, adapted to the picturesque views of the city that are opening from every of the hotel's rooms. In the Harmony Hotel, you'll be able to dive into the world of exquisite books, play billiard or chill out in front of the cozy fireplace in a cool evening. In the afternoon, the hotel serves refreshments and wine on the house (Saturday night excluded). Vacation in the Harmony hotel is the perfect solution for anyone in need of relaxation and peace. Time stands still here.
 Where: Yoel Moshe Salomon 6, Jerusalem. 
Hotels for affordable prices >>
Prima Hotels: Romance & Culture
Photo: Prima Royale Hotel
Looking for an intimate hotel with an artistic and cultural twist? Prima Royale Hotel is exactly that. This hotel offers a romantic and indulgent vacation in one the city's best locations.  Located on a quiet street in the center of Jerusalem, the hotel is just a few minutes away from the city's attractions, restaurants, and stores. But it's not only what's outside that counts. Hotel guests can enjoy their breakfast to the sounds of a live piano, go on cultural tours, and admire the beautiful artwork that will inspire your vacation and make it unique and unforgettable.
Where: 3 Mendale Mocher Sfarim St., Jerusalem
How much do you know about Jerusalem's wine scene? If you're a wine lover, we highly recommend checking in at Prima Park Hotel – Jerusalem's wine hotel. Prima Park Hotel is a true romantic recipe. The hotel has its own wine bar, which works alongside Jerusalem Vineyard Wineries. This is where you get a glass of quality wine with assorted cheese. If you're a real enthusiast, ask for the local wineries map, and go on an exploration adventure at the Jerusalem Hills. If you're more into staying indoors, head to the lobby bar and you'll find a beautiful knights table. Sit, relax with a glass of wine, and absorb the elegance that surrounds you. When you get hungry, step outside, and have a delicious meal at the hotel's beautiful patio. Now you're all set to go and rest in your spacious room.
Where: 2 Ze'ev Vilanai St., Jerusalem
Check Out Prima Royale's Spa & Health Club>> Visit Jerusalem Vineyard Wineries Wine Bar at Prima Park Hotel>>
Leonardo Boutique by Fattal Hotels: Perfect Location in Downtown Jerusalem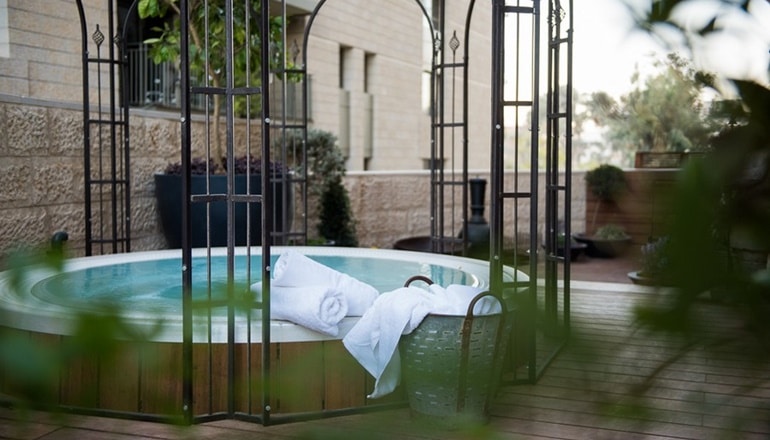 Photo: Leonardo Boutique by Fattal Hotels
Leonardo Boutique Hotel is located in downtown Jerusalem, just by Safra Square, Jaffa Street, and within walking distance to the Old City walls. The hotel's objective is to provide couples with a premium vacation in an exclusive atmosphere that would allow them to indulge and enjoy the silence and the luxury while staying close to the city center and its most popular attractions. The hotel's design focuses on the sweet combination between the ancient and the modern and highlights the coziness and homely feel of Jerusalem. The guestrooms are designed in a soft Oriental style featuring elegant items and a luxurious atmosphere. Some of the rooms include balconies with views of the Old and the New Jerusalem. You will find a patio lobby, a pampering hot tub and sunbathing beds in the hotel's garden, and spa treatments. In addition, guests can enjoy a cozy library, a fully-equipped gym, free Wi-Fi, and a fine-dining restaurant with rich breakfast and dinner by Chef Shalom Kadosh. In short, everything you need for the perfect romantic getaway
Where: 3 Monbaz Street, Jerusalem 
Check out more hotels by Fattal>>
Little House in Bakah Hotel
Photo: Little House in Bakah Hotel 
Another romantic hotel located in the center of Jerusalem is Little House in Bakah. Housed in a historic building and known for its peaceful and intimate atmosphere, the hotel offers 35 guestrooms designed in an ottoman style. The hotel's building is considered to be one of Jerusalem's most impressive and beautiful preserved stone houses, designed with wide arches, high ceilings, and round top windows that create beautiful lighting and romance. The hotel serves a full Mehadrin Israeli breakfast in a green and quiet garden, with a view on the neighborhood's picturesque buildings.
Where: 1 Yehuda St., Jerusalem
Find a Hotel in Downtown Jerusalem >>
Yearim Hotel
Photo: Yearim Hotel
If you're looking for a romantic jaunt just outside Jerusalem, consider the nearby Yearim Hotel in the astounding Judean Hills, just a fifteen-minute drive from Jerusalem.   The hotel is all about its natural location and surroundings and offers couples the chance to unwind on a romantic getaway and take in picturesque surroundings, crisp mountain air, and attractions in the area. Just outside the door, you'll find gorgeous national parks, hiking and bicycle trails, forests, monasteries, and wineries. Guests can have a good workout and get pampered in the hotel's fully equipped gym and spa, and enjoy breathtaking views from the hotel's dining room.
Where: Maale Hahamisha Hotels in West Jerusalem and Judean Hills>>
Alegra Boutique Hotel
Photo: Alegra Boutique Hotel
The Alegra Boutique Hotel in Ein Kerem, with its turbulent history and trendy decor, is one of the most romantic boutique hotels in Jerusalem.
The hotel is quite intimate with just seven suites, each stunning, with a large bed on a platform and a unique marble bathroom.
Couples can go for leisurely strolls together through the verdant gardens filled with cozy seating areas, or enjoy the hotel's wading pool, fish pools and little waterfalls. The rooftop offers spectacular views of churches, the old stone houses in Ein Kerem, and the Judean Mountains. The hotel offers guests the opportunity to indulge in a spa treatment in the privacy of their room or in one of the hotel's intimate nooks and crannies. In addition, Alegra offers a splash pool and wet sauna.
Alegra Hotel feels far removed from the hustle and bustle, but is not a far drive from the city center and major attractions in Jerusalem. This romantic getaway is popular with Tel Avivians, Jerusalemites and tourists in the know, so make sure to book in advance to reserve your place for Valentine's Day in Jerusalem.
Where: 13 Derech Ha'achayot, Ein Kerem
Find Great Hotels in Ein Kerem>> 
Inbal Jerusalem Hotel
One of the leading romantic hotels in Jerusalem, the Inbal Jerusalem Hotel, alongside Liberty Bell Park in Talbiyeh. In 2013 they offered a special Valentine's Day package for couples which included an upgraded superior room with stunning views of the Old City, sumptuous breakfast, free entry to the health club and fitness room, a 30–minute classical Swedish massage for each person, and dinner for two prepared by esteemed Chef Moti Bohbot at the Sofia Restaurant (including a glass of house wine). This five-star hotel boasts one of Jerusalem's top spas and health clubs with a range of treatments, a year-round swimming pool and excellent exercise facilities. The Inbal Jerusalem Hotel was ranked as the leading hotel in Israel and the fourth in the Middle East on Conde Nast Traveler's Readers' Choice Awards, and is listed on the "2012 Gold List."
Where: 3 Jabotinsky St., Jerusalem
More Luxury Hotels in Jerusalem>>
Mount Zion Hotel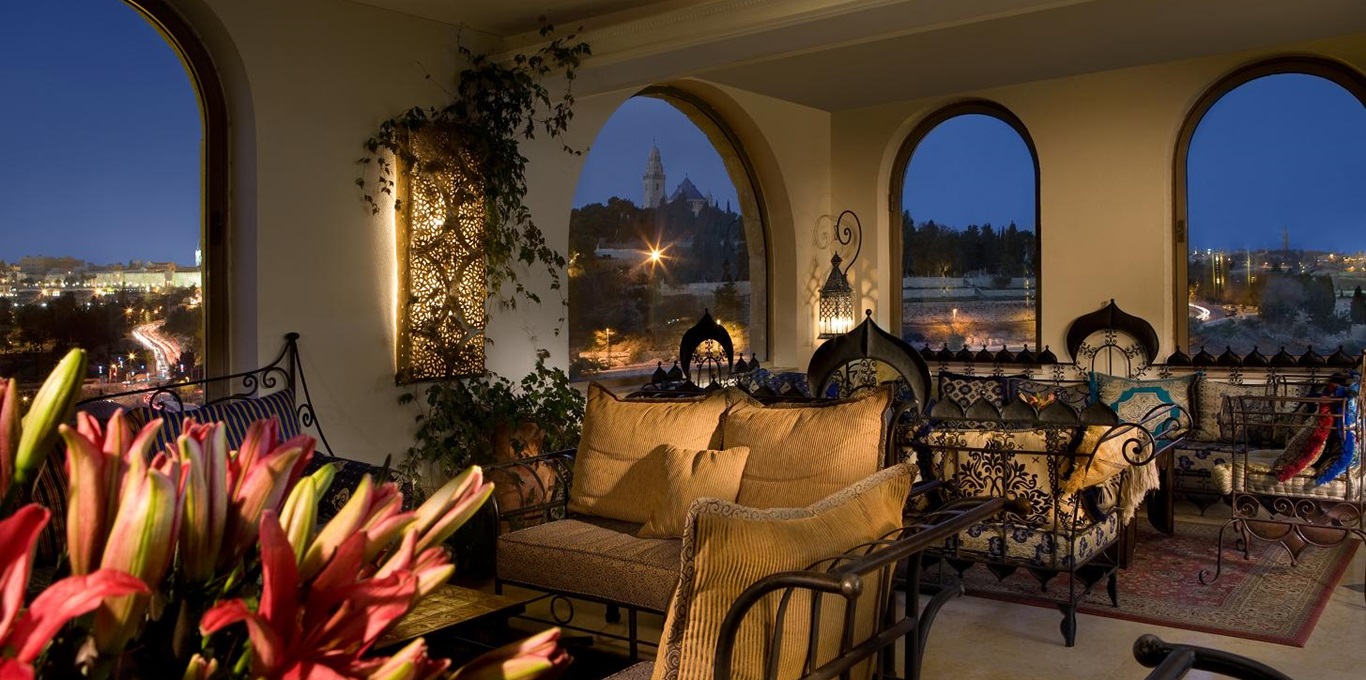 Photo: Mount Zion Hotel
Directly across from the Old City walls, the Mount Zion Hotel offers unique charm, elegance, and style and is known as one of the most romantic boutique hotels in Jerusalem.  The hotel is located in a 19th-century building and is near some of the city's major attractions such as the Menachem Begin Heritage Center, the Jerusalem Cinemateque and Sultan's Pool. Couples can spend Valentine's Day in Jerusalem taking in an independent film and a stroll to the Old City, or can stay on the hotel grounds and unwind in the traditional hamam (Turkish bath), swimming pool, indoor and outdoor Jacuzzis,spa and health club. The hotel offers 140 beautiful rooms, including luxury suites.
Where: 17 Derech Hebron, Jerusalem
Accommodation Options Near the Old City>>
Mamilla Hotel
Photo: Mamilla Hotel
Undoubtedly one of the most romantic hotels in Jerusalem, Mamilla Hotel was designed by world-famous architect Moshe Safdie and exudes class and style. The hotel incorporates Jerusalem stone, yet has an ultra-modern aesthetic with minimalistic touches by top designer Piero Lissoni. The hotel features an opulent indoor swimming pool as well as a luxurious spa and health club.
Mamilla Hotel is home to a number of leading restaurants in Jerusalem including the trendy Mirror Bar and The Rooftop Restaurant, with spectacular views of the Old City and a romantic ambience. Mamilla Hotel is located at the helm of the high-end outdoor Mamilla Mall, whose walkway connects downtown Jerusalem with the Old City. Therefore, the Mamilla Hotel  makes a perfect base for spending time in Jerusalem this Valentine's Day with your loved one.
Where: 11 Shlomo Hamelech St., Jerusalem
Biazi Hotel - having a blast in the picturesque Nachlaot neighborhood
The Biazi Hotel (Photo courtesy of the Biazi Hotel)
 The Biazi Hotel resides in the heart of the legendary Nachlaot neighborhood – one of the defining areas of Jerusalem's beauty and spirit. It is a luxurious and intimate boutique hotel. Established upon the history of Nachlaot and being a tribute to Mr. Eliyahu Biazi, a prominent figure of Jerusalem, embodying the history of Jewish settlement in the city. The building was erected and inspired by Biazi itself, who was the head of the family, an expert in baking phenomenal cakes, and an amateur carpenter. The hotel offers 5 suites, designed in the most upscale manner. Additionally, you'll be able to enjoy a magnificent view of the neighborhood, the Sacher park. Additionally, there are many points of interest in the area to have a great time. 
Where: Kfar Bar'am St 26, Jerusalem 
More accommodations by the Old City >>
Looking for more recommendations?