Though Jerusalem is best known for its wealth of ancient, biblical and religious-oriented art, the city is teeming with young art students and also offers a vibrant and dynamic contemporary art scene.
Most of the galleries in town are open late afternoon, making these hours a good time to explore.
City Center
There are several other galleries in the city center worth checking out. From Nachlaot, head to bustling Agripas Road to visit Agripas 12 and then to Jaffa Road to visit Yaffo 23. From there, head to the top of Bezalel Street to see the wares at the Designer in the City Complex and exhibitions at the nearby Jerusalem Artist's House. Then, move on to the atmospheric neighbourhood of Nachalat Shiva behind Ben Yehuda Street to take in works by contemporary photographers, and finally, the area of Morasha to experience the renowned Jerusalem Print Workshop.
Agripas 12
Agripas 12
on Agripas Road in town is a co-operative gallery for contemporary art that is owned and operated by a group of artists who believe in creating dialog between art and the public.
Where: 12 Agripas Road, Jerusalem
Designers in the City Complex
Photo: Courtesy of Designers in the City
This Center at the top of Bezalel Street showcases varied artwork by young designers and includes innovative ceramics, clothing, jewelry and home ware for sale. It is a hub of creative activity and is worth stopping by to browse and pick up an unusual present.
Where: 7 Bezalel Street, Jerusalem
Jerusalem Artists' House
Photo courtesy of The Jerusalem Artists' House
The Jerusalem Artists' House, located on Shmuel Hanagid Street, is a grand historic building that showcases a mix of exhibitions by talented newcomers and veterans, locals and international artists. Hanagid Gallery at the Artists' House sells major collections of art to the public.
Where: 12 Shmuel Hanagid Street, Jerusalem Phone: +972-2–625-3653
Vision Gallery
Vision Gallery, found in a restored 100 year-old stone building in town, displays photographs by Neil Folberg, the owner of the studio gallery, and by other contemporary photographers. The Gallery also features a vast range of original 19th Century vintage photographs.
Where: 12 Yosef Rivlin Street, Jerusalem Phone: 02-622-2253
Jerusalem Print Workshop
The Jerusalem Print Workshop in Jerusalem's picturesque Morasha neighborhood is a center devoted to the teaching of printing techniques to artists and to the general public that also houses an active gallery and art library.
Where: 38 Shivtei Yisrael Street, Jerusalem Phone: +972-2-628-8614
Mahane Yehuda & Nahlaot
A good place to start is by wandering around the
Mahane Yehuda
market and its surrounding streets, which are filled with urban art on the stone walls, trash bins and shop entrances. Well-known artists, painters, street artists and photographers have contributed to this urban art project known as Tabula Rasa.
Next, enter the adjoining quaint neighborhood of Nahlaot with its maze of small, winding alleyways between Agripas and Bezalel Streets.
Barbur Gallery
Photo: Barbur Gallery
Barbur Gallery is an independent, non-profit space for contemporary art. The Barbur Gallery gives a platform to young and lesser known artists and raises social issues often overlooked by the mainstream art scene. Exhibitions change monthly. The Barbur hosts lectures, poetry readings, screenings and other activities.
Where: 6 Shirizli Street, Jerusalem Phone: +972-54-456-7856
Around Jerusalem
There are a number of other contemporary art havens scattered around Jerusalem. Take your pick, and head to one of these from town.
Hutzot Hayotzer Artists' Colony
Photo courtesy of Hutzot Hayotzer Artists Colony
The enchanted alleyways of the Hutzot Hayotzer Artists' Colony have been home to Israeli artists for over 40 years. While roaming this area, chances are you will encounter well-known artists whose works are exhibited in the most prestigious Israeli and foreign museums. See artists at work, talk to them about their creative processes and purchase straight from the creators.
Where: Next to Sultan's Pool Phone: +972-52-507-0220
Israel Museum
Photo: Ilan Zaviv
Israel Museum, situated on Museum Row in Givat Ram, has undergone extensive recommendations and is Jerusalem's foremost art venue. The Israel Museum features a Fine Arts Wing with sections for Modern Art, Israeli Art, European Art, and Contemporary Art. A 2,200-square-meter gallery floor is devoted to changing displays of contemporary art.
Where: 11 Derech Ruppin, Jerusalem
Bezalel Academy of Art and Design
Located on Mount Scopus,
Bezalel Academy of Art and Design
is Israel's oldest and most prestigious art school. Bezalel hosts many events and workshops geared towards the art-loving public including the eclectic yearly graduates' exhibition. It is worth calling beforehand to check if anything is on at the moment and worth attending.
Where: Mount Scopus, Jerusalem Phone: +972-2-589-3333
Museum on the Seam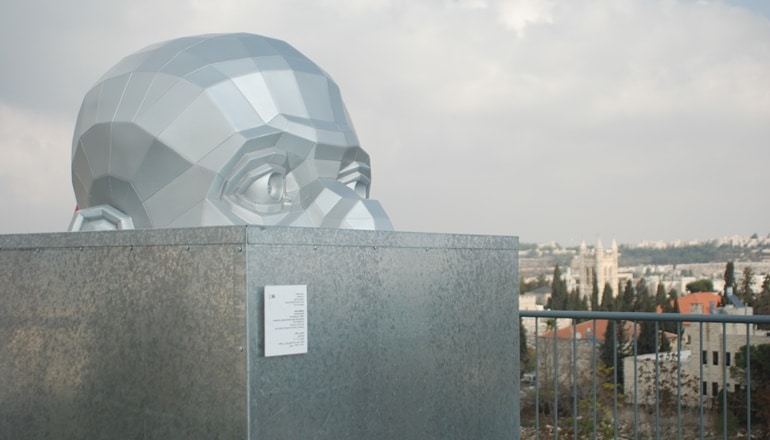 Museum on the Seam (Photo courtesy of the Museum on the Seam).
Sitting right on the divide between Jews and Arabs and east and west Jerusalem, the Museum on the Seam aims to use art as a language with no boundaries in order to raise and comment on  controversial social issues. Museum on the Seam stages exhibitions on fascinating subjects like human rights, emotional anxiety, and the relationship between personal and public spaces.
Where: 4 Heil HaHandasa Street, Jerusalem Phone: +972-72-3290753
Jerusalem House of Quality
Photo by Kaska Sikora
Jerusalem House of Quality, overlooking the Old City walls, is a center that focuses on creating and showcasing original Jerusalem art. The building features a courtyard in the style of an Arab khan (traveler's inn), crests of Scottish nobility, an Armenian ceramics room, and a copy of a 2,700-year-old silver scroll containing a Priestly Blessing in ancient Hebrew script. In the Center you will see nearly two dozen artists at work in a variety of disciplines. You can enjoy exhibitions as well as other related events.
Where: 12 Derech Hebron, Jerusalem Phone: +972-72-3290783
Dwek Gallery
Not far away from the Jerusalem House of Quality is the Dwek Gallery in the Konrad Adenauer Conference Center in historic Mishkenot Sha'ananim. The Gallery exhibits a mix of contemporary Israeli artists in various media, and works are selected to tie in with the theme of cultural and historical conferences at the center.
Where: Mishkenot Sha'ananim, Yemin Moshe, Jerusalem
Artists' Studios
The Artists' Studios in industrial Talpiot area is Jerusalem's leading artist workshop center. The Art Cube Gallery within the Artists' Studios displays the often excellent work of resident artists.
Where: 26 Haoman Street, Jerusalem Phone: +972-2-679-7508