To help you choose the ideal place to celebrate, we've taken the liberty of finding the best venues for various types of celebrations.
Serious Celebrations
Bar/bat mitzvahs, weddings, corporate events and other events that have the potential for an expansive guest list require a dedicated event venue with facilities and service that will ensure that the event goes off without a hitch.
Olmaya
Photo: Courtesy of Olmaya/Roni Matityahu 
Boasting one of the most iconic views of Jerusalem, Olmaya promises an unforgettable experience. Located on the Haas Promenade, Olmaya is one of the go-to venues for anyone looking to add a luxurious touch to any event, including weddings, bar/bat mitzvahs, corporate events and brit milah's, with first-rate facilities and a standard in service at international levels. 
Photo: Courtesy of Olmaya/Roni Matityahu 
Olmaya's gorgeous event space features a spacious garden and a sleek transparent glass structure with a retractable roof that makes it ideal for all seasons and weather maximizing the picture perfect panoramic views from every angle.  The "Inside Arches" space allows a different setting with warm wood and Jerusalem stone accents, perfect for a cocktail reception or dynamic after party.  Thei in-house caterers answer to all tastes and styles with variety of exquisite menu options and the Olmaya exclusive custom bar menu satisfies all guests.  Olmaya can be tailored to all events, ranging from intimate tefillah and brunch ceremonies of 100 to summer weddings of 600. 
Photo: Courtesy of Olmaya/Roni Matityahu 
Where? Haas Promenade, Jerusalem>
Ramat Rachel
Photo courtesy of Ramat Rachel 
Kibbutz Ramat Rachel is one of the most picturesque venues in the city, surrounded by green grass, orchards, and forest with a gorgeous hilltop view of the valley below. There are several event halls to fit any size event from 50 to 900 people. The Masik Banquet Garden allows you to hold an indoor/outdoor event with either table service or self-service buffet-style catering. The location on the outskirts of the city offers a serene atmosphere, but the kibbutz is still only a short drive or bus ride from the city center. Out of town guests who want to be close to the action can also stay at the 165-room Ramat Rachel Hotel, and the venue has a dedicated staff that can guide you through the event planning process. 
Where? Kibbutz Ramat Rachel, Jerusalem
Modern Restaurant  - Israel Museum
Photo courtesy of Modern
Israel Museum is not only one of Jerusalem's leading attractions but it is also home to one of the best restaurants in the world of private celebrations, including bar-mitzvah events. That is, of course, Modern Restaurant. The place has a large space that can accommodate up to 400 guests and it is perfect for bar/bat mitzvah celebrations. If you're planning a larger event, you can also expand into the museum area. In addition, as part of the amenities that are offered by Modern Restaurant, you'll find projection equipment, a screen, and a sound system. As for the food, hosts can choose from 12 different event menus, which were personally designed by Chef Oren Yerushalmi, and which guarantee the perfect bar-mitzvah meal.
Where? 11 Rupin Rd., Israel Museum, Jerusalem      
Bible Lands Museum
Photo courtesy of the Bible Lands Museum 
Alongside the historic biblical story, the Bible Lands Museum offers 6 venues of different sizes that would comfortably fit a bar/bat mitzvah event of any size or budget. The museum offers an exclusive experience that features an historic value in the event program, using interactive tours for children and adults in a variety of themes: stories of the Bible, Jewish holidays, and more. An extraordinary experience for those who are celebrating a bar/bat mitzvah! Make sure to check out the classic and luxurious event venue or the "Seven Species" garden – the perfect option for outdoor events that combine fascinating content and a unique atmosphere. 
Where? 11 Shmuel Stefan Wise St, Museum Row, Jerusalem
Intimate Gatherings
City of David
Family Celebrations at the City of David (Photo: Eliyahu Yanai).
This remarkable site at the Old City is now open and available for having special family events and gatherings. With the unique atmosphere of an ancient and royal vibe. Enjoy the mountain air and the unique settings suitable for any occasion, both standing and sitting events. Combined with the perfect cuisine and kind service – this is the best way to get together and celebrate monumental moments of your lives.
Where? City of David Hill, Jerusalem
Corporate Events
Photo: Yad Ben-Zvi 
Yad Ben Zvi's event complex is the perfect solution for those who wish to host a corporate event for a large group of employees. The environment is unique and filled with culture, content, and added value. The complex is located at the official residence of Israel's second president – Yitzchak Ben Zvi. Planning an event at Yad Ben Zvi is easy and simple. The event planners go through all the details with the host, making sure that you get the best company gathering experience. The staff takes care of everything, including: sound systems, seating arrangements, projectors, kosher catering, and even copy and print services. The reception gallery can accommodate 120 guests. Following the reception, you can choose to continue to a banquet hall designed for 60-100 guests and includes a projector and a sound system. You could also choose to host a larger event at Yad Ben Zvi's auditorium that can seat up to 300 people. 
Where? 14 Eben Gabirol Street, Jerusalem
Lechem V'Basar (Meat & Eat)
Photo courtesy of Lechem V'Basar (Meat & Eat) 
Located in the charming First Station compound, Lechem V'Basar is a modern restaurant with a casual atmosphere that specializes in high-quality meat alongside fresh bread and salads. In addition to a delectable menu, it has a private event room that can host up to 30 people, and if you book the entire restaurant, you can have up to 120 guests in the winter and 150 in the summer. The decor is an eclectic mix of retro furniture, which makes for a lively atmosphere, perfect for casual celebrations and group dinners for family, friends or work colleagues. Menu prices range from 120 to 200 NIS per person.
Where? First Station, 4 David Remez Street, Jerusalem
Nocturno
Performances and stand-up shows at Nocturno Live (Photo: Courtesy of Nocturno).
Nocturno, the beloved cafe turned into a symbol of Jerusalem transforms each night into Nocturno Live – a center of nightlife, designed for performances, stand-up shows, and Poetry Slam. The compound can be booked for corporate events as well, with a direct connection to the numerous talents that work with Nocturno regularly.
The menu is based on dairy-vegetarian-vegan cuisine, with freshly cooked meals prepared on the spot from the best and most fresh ingredients Jerusalem has to offer. Aside from the great food, Nocturno Live provides you with a rich bar, filled with high-quality alcohol and special wines.
Where? Bezalel 7, Jerusalem
Happy Fish
Photos: Courtesy of Mamilla Hotel
The Happy Fish restaurant is perfect for birthday parties – it is located in the prestigious Mamilla Hotel, decorated in a magical orchard style overlooking breathtaking landscapes of the heart of Jerusalem.
The food and the atmosphere of the place are blended together perfectly. The restaurant offers you a fine, authentic Jerusalem meal: fresh fish from the Mediterranean, carefully crafted by the chef, a specific cooking method upon the customers' choice. The meals are spiced up by freshly picked herbs. All the pastries and bread are baked in the restaurant daily, and the salads are rich with colors and flavors.
Where? Mamilla 14, Jerusalem
Piccolino
Photo courtesy of Piccolino
Piccolino is an old Jerusalem restaurant in the Nahalat Shiva neighborhood in the city center. The food, the atmosphere, and the service of the Piccolino are all pure fun! Hence this is the perfect place for a birthday meal.
At Piccolino you'll enjoy a rich fish menu and Italian cuisine with a Mediterranean twist – all strictly kosher. This includes focaccia. Pasta, exquisite fish, and more. You may book the space for intimate events, or take the private room, suitable for up to 35 diners.
Where? 12 Yoel Moshe Solomon Street, Jerusalem
Kinor Bakikar
Photo courtesy of Kinor Bakikar
Just across the way from Piccolino, Kinor Bakikar is an ideal place to host an event with a high-end kosher meat menu. The indoor dining room has a luxurious, steakhouse-style motif, and, of course, you have the picturesque outdoor courtyard surrounded by beautiful Jerusalem architecture, white Jerusalem stone, a performance stage with daily shows and even an elegant fountain. The atmosphere simply can't be beat. The food is naturally nothing short of excellent with veteran chef Chef Kobi Katani's blend of classical European and modern cuisine with a touch of local flavors. 
Where? 8 Ma'avar Beit Haknesset Street, Jerusalem
Between the Arches Restaurant
Photo: Courtesy of Between the Arches 
If a ceremony at the Western Wall or any place in the Old City is part of your celebration plans, you'll be hard-pressed to find a more convenient and beautiful venue than Between the Arches. In addition to its location in a beautiful 13th century building just a few steps away from the Western Wall, Between the arches is one of the best kosher fish and dairy restaurants in town, serving a collection of original dishes concocted by Chef Shai Lotiti. Between the Arches has a total capacity of 90 people, but if you're event is smaller, then you can book the upper floor for an event of up to 30 people. 
Where? 174 Hagai/Al-Wad St, adjacent to Western Wall Plaza, Jerusalem
Khan Theater
Khan Theater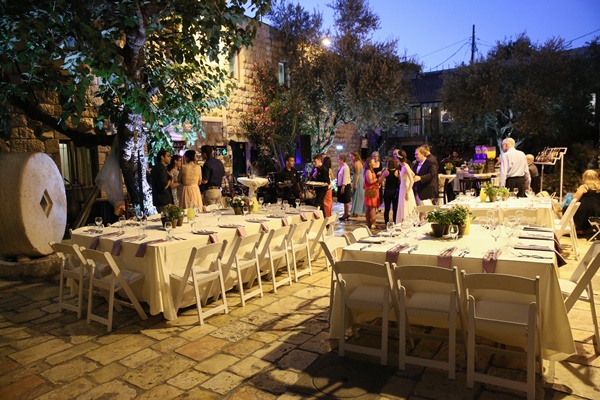 Photo: Ravit Turkiya 
Located across the street from the First Station compound where the Baka neighborhood meets the city center and Old City, the Khan Theater is not only incredibly convenient and central, but also beautiful facilities housed in a renovated 19th century Ottoman building characterized by typical Jerusalem stone and a romantic, festive ambiance, including 2 indoor event rooms and a spacious courtyard. The picturesque courtyard can be booked on days when there are no other events at the theater and holds up to 300 people. The trees and ancient millstones make for beautiful surroundings and the perfect venue for a summer event. During the summer, the theater is on break, and Friday afternoon. You can also hold events for up to 100 people on the balcony overlooking the courtyard or up to 60 people in the Khan Cafe. The theater's catering offers a rich menu selection ranging in price from 170 to 400 NIS per person. If you don't need a large space, Jerusalem is full of unique and charming restaurants, cafes and other venues that offer the option of booking a private room or renting out the entire establishment, depending on the size of your event. These venues are perfect for group dinners with family, friends or colleagues, as well as small to mid-size celebrations like brit milahs and birthdays. 
Where? 2 David Remez St, Jerusalem
Cafit Botanical Gardens
Photo: Courtesy of Cafit 
With a location right on the lake in the Jerusalem Botanical Gardens, this branch of Cafit gives you the chance to take advantage of one of the most picturesque corners of Jerusalem for your event. You and your guests will have a fantastic view of the area and intimate atmosphere, surrounded by beautiful and exotic flowers and trees from all over the world. Cafit has become one of the most popular chains in the city and offers a rich dairy menu with salads, pasta, fish sandwiches and more that will perfectly complement any occasion. The menu for afternoon and evening events ranges from 110 to 145 NIS per person, and breakfast events cost 75-125 NIS per person. 
Where? 1 Yehuda Burla St., Jerusalem
Leonardo Boutique
Photo: Leonardo Jerusalem Boutique of the Fattal chain
Leonardo Jerusalem Boutique of the Fattal chain is an innovative hotel that brings uncompromising quality and the highest standards of accommodation in an exclusive atmosphere. The hotel is placed at Monbaz Street, by the city center, giving you easy access on foot or by public transportation to the Grand Synagogue and the Old City – as well as fine restaurants and attractions of the most enchanting part of town.
The hotel is especially great for celebrating a bar mitzvah, and except for the awesome location, it also contains various celebration options at the hotel facilities:
The modular event areas can be adapted for hosting up to 90 guests
A Mediterranean restaurant on the hotels' premises
Kosher under the supervision of the Jerusalem Rabbinate
Where? Monbaz 3, Jerusalem
Baraka: Events hall and restaurant near Mamilla
Photo courtesy of Baraka
Baraka Hall and Restaurant is located near Mamilla and invites you to celebrate Bar Mitzvah in a festive, authentic atmosphere. Baraka's courteous staff will make you feel at home and make sure your Bar Mitzvah dinner becomes an unforgettable experience for the happy Bar Mitzvah boy and all the guests.
The charm of the Old City is blossoming over the grand entrance to the bar. Inside you'll find a well-designed and equipped events hall that accommodates up to 250 delighted guests. At the restaurant you'll enjoy a kosher event menu under the supervision of Rabbi Mahfud, consisting of a variety of delicacies from Moroccan-Oriental cuisine that will add flavor and color to any occasion. In addition, you can use sound equipment and a variety of lighting options. Plus, there's plenty of parking near the hall. 
Address: Korash 7, Jerusalem
Mamilla Hotel
Photo Courtesy of the Mamilla Hotel
The Mamilla Hotel is one of the most special hotels where you can host bar or mat mitzvah events. The hotel provides an unmatched experience: located at the heart of the historical Elrov Mamilla boulevard, next to Jaffa Gate and in front of the Old City Walls and the Tower of David.
Here the Bar Mitzvah boy will be able to witness the grand magic of Jerusalem in all its glory.
The hotel offers 8 halls and event complexes of various sizes, designed in an authentic historical Jerusalem atmosphere, equipped with the newest technology. The professional and courteous staff will make sure your event is a success.
During the ceremony, you can request a projector, a big screen, and an advanced sound system to complete your experience.
Useful information:
Parking is available at the hotel – for a fee
The place is Kosher under the supervision of the Jerusalem Rabbinate
The place hosts up to 350 guests
There's a synagogue available at the hotel
Enjoy a terrace overlooking the Old City Walls
Where? King Solomon 11, Jerusalem
More...
Didn't find what you're looking for in this article? Check out more
Event venues>>
Restaurants for bar/bat mitzvahs>>